This time I'm gonna rip your face off! - Anslem "House" Jackson.
Anslem Jackson a.k.a. House was a bodyguard of D-Mob during Def Jam: Vendetta. In Def Jam: Fight for NY. He plays a minor role as a normal fighter, but still remains fighting for his boss, D-Mob.
Events of Def Jam: Vendetta: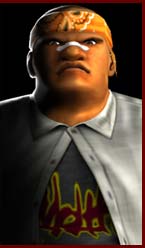 In Def Jam: Vendetta. House, Pockets, and Snowman are seen everywhere where D-Mob goes. They follow him around as Bodyguards. They try to beat up Manny Gray's best friend, but all three bodyguards fail and run away, thus leave Manny Gray to finish the job. House along with the rest of D-Mob's crew is overlooking as Manny Gray's friend comes back, even though he was beat up, to the Def Jam Tournament. House along with Snowman show a surprised scared look when D-Mob pulls out his pistol to attempt to kill Manny's friend. However, after Manny Gray's friend beats up D-Mob and leaves. The police capture D-Mob as House, Pockets, and Snowman do nothing to stop it, thus leaving D-Mob behind.
Events of Def Jam: Fight for NY: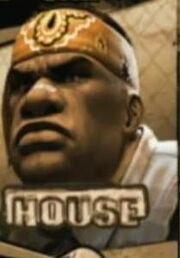 In Def Jam: Fight for New York. House, Pockets, and Snowman are no where to be seen during the opening cinematic. This likely makes D-Mob pissed off as he looks around to see where they are. With his own bodyguards abandoning him. D-Mob is saved by the hero and brought back to D-Mob's place and later the Gym. House is there and the player must pass House in order to be "qualified" to fight. House plays a really minor role after this. Just appearing as a fighter, but still remains on D-Mob's side.
Background Information:
Full Name: Anslem Jackson
Hometown: Bronx, NY
Nationality: American
Age: 28
Height: 6'5"
Weight: 344 lbs
Occupation: Bodyguard
Background: The physically imposing House is a monster of a man. Though he showed considerable promise as a football player in high school, his poor work ethic and shoddy grades finally caused him to drop out. Once he hit the streets, House used his muscle to make ends meet. It wasn't long before he found his way into D-Mob's crew. As the largest enforcer for D-Mob, he makes sure that no one steps out of line.