I'm gonna take your life and your money.
-
Sharif "Pockets" Hayek.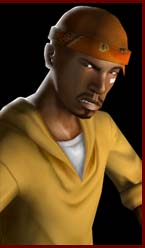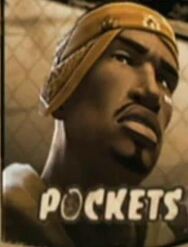 Sharif "Pockets" Hayek a.k.a. just "Pockets" was a fighter fighting for D-Mob in Def Jam: Vendetta. He protected his boss everywhere with House and Snowman. In Def Jam: Fight for NY. He still remained in D-Mob's crew, but was rarely around.
Events of Def Jam: Vendetta:
Pockets appeared in Def Jam: Vendetta as a body guard for D-Mob along with Snowman and House. He played a really low role. Usually just following D-Mob around and protecting him. He was sent to assassinate Manny Gray's best friend in order to now allow the person to enter the Def Jam Tournament. He was helped by Snowman and House in this task. However, all three of them failed. He goes back to D-Mob after Manny Gray accomplishes the task instead of them. Later on. Pockets, Snowman, and House remain at D-Mob's side. Before and after the Def Jam Tournament. After the tournament. House, Snowman, and Pockets watch as D-Mob gets arrested.
Events of Def Jam: Fight for NY:
In Def Jam: Fight for NY. Pockets, House, and Snowman are no where to be seen during the opening cinematic. Likely leaving D-Mob to be arrested by the cops because they believe they can't do anything about it. House and Pockets remained in D-Mob's crew while Snowman was thrown out for "being too soft". However, Pockets continues his career as a fighter. However, he is seen fighting, but he is not seen with his crew.
Other Information:
Full Name: Sharif Hayek
Hometown: Brooklyn, NY
Nationality: Lebanese
Age: 24
Height: 5'11" Weight: 145 lbs
Occupation: Bodyguard
Background: Pockets moved with his parents from Lebanon when he was 6, but marital difficulties soon left him an orphan. His dad skipped town, and his mom overdosed in her attempts to deal with her depression. Left to fend for himself on the streets, Pockets made ends meet by stealing and picking people's pockets (hence his nickname). Brought into D-Mob's syndicate for his scheming nature, he's the brains of the operation, advising on all business dealings.
OTHER PHOTOS: